Stumholmen
Address: Stumholmen, 371 32 Karlskrona
Show map

Address: Stumholmen, 371 32 Karlskrona

The pulse of history is heard clearly over the island, which once was a warehouse for the sailing fleet's food supply
After 300 years as a closed military area, the island Stumholmen was transformed in 1993 into a civilian section of the city. Among waterside houses and work places and at the lovely swimming beach, history lives on. This is where you will find the Naval Museum, Karlskrona's foremost visitor attraction. The museum is an architectural masterpiece, with its 140-metreplus structure extending right out over
the water! The museum also incorporates the interesting Sloop and Longboat Shed with boat displays. The old hangars from the pioneering days of aviation and Kungshall storehouse are other interesting attractions.

The island played host to the Building Fair in 1993, and the Naval Museum was opened in 1997.
Show more
Hotel
Distance: 896 meters
First Hotel Ja is a four star business hotel with a homely atmosphere. It is located in central Karlskrona in a shopping precinct, Wachtmeister, so it is close to everything you need; restaurants, entertainment and shopping. The hotel itself dates back from the 1700´s and has recently undergone an extensive renovation including all rooms, lobby, corridors and conference lounge to give our guests a stylish stay in a central location. All of our 88 rooms are furnished with blackout curtains and subtle lighting for a cozy atmosphere and comfortable Jensen beds ensure a good night's sleep. Whatever the time of year, the lobby is the most popular place to sit and relax, take a cup of tea or coffee and enjoy some homemade cake. During business season, Monday – Thursday, we also serve a free evening meal in the hotel lobby. If you arrive by car, you can park in our heated garage. Fee' applies 24 hours. We hope that you will leave First Hotel Ja with fond memories from your stay with us and from Karlskrona. Most
Hotel
Distance: 651 meters
Let us welcome you to First Hotel Statt in Karlskrona, which is a city centered hotel from the last turn of the century. We can guarantee you a comfortable stay and a superb breakfast buffet, the perfect way to start your day. The beautiful architecture of the hotel makes it an idyllic place for conferences, business people and for the private traveler. The hotel is located on the main street in the centre of town, so everything you need is right around the corner; gym, cinema, bars, restaurants, convenience store, pedestrianised boutique shopping, museums and more.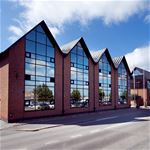 Hotel
Distance: 833 meters
Welcome to the Clarion Collection Hotel Carlscrona The Clarion Collection® Hotel Carlscrona is conveniently located in the center of the World Heritage historic city of Karlskrona, by the Baltic Sea. The harbor in the archipelago of Blekinge is adjacent to this Karlskrona, Sweden hotel. The hotel is also close to The Naval Museum (Marin Museum) and the Blekinge Institute of Technology.