Spraglehall - nature reserve
Address: Spraglehall, 294 75 Sölvesborg
Show map
Address: Spraglehall, 294 75 Sölvesborg

Spraglehall is a nature reserve which consists of a small residual mountains and is characterized by rock outcrops, meadows, marsh areas.
Most of the highest portions consist of flat extensive outcrops. On the rocks there are so-called striations. The wooded parts dominated by hornbeam with some other deciduous trees and mainly in the shrub layer. It is an accessible and active outdoor life attractive area. The purpose of the reserve is to preserve an area of ​​geological, biological and social conservation values​​. Nice view of bay in Pukavik. Spraglehall located immediately northwest of hooked fishing village on Listerlandet. In the northernmost part of the community is adequate parking adjacent to the area.
Show more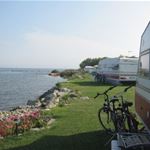 Camping
Distance: 12.2 km
Peaceful, pleasant family campsite in a unique setting just off the beach between the beech woods of Blekinge and the sea, just 3 km from the centre of Sölvesborg.
Hotel
Distance: 14.5 km
First Hotel Carlshamn is comfortably located downtown Karlshamn. The hotel, built in 1987 reflects the historic heritage and design of the early 20th-century market hall once located here.
Hotel
Distance: 16.5 km
Karlshamn's largest and newest hotel is located just steps away from the highway and interconnects with all of Europe. Yet, close to the delightful town, convivial archipelago, beatiful golf course, and of course phenomenal salmon fishing.