Björketorpsstenen
Address: Tvingvägen, 372 75 Johannishus
Show map
Address: Tvingvägen, 372 75 Johannishus

Björketorpsstenen, one of the country's most remarkable rune stone monument, located at Björketorp, about 7 kilometers east of Ronneby.
The rune stone is flanked by two tall standing stones. The three stones forming a triangle and mentioned in writing for the first time in 1493, as the landmark between Edestad, Listerby and Hjortsberga parishes. Near the rune stone and the other two blocks are a burial ground which dates from the Migration Period, 400-800 AD.
The rune stone is just over 4 meters high and has a Primitive Norse inscription, a curse formula. "Mighty runes secret I hid here, powerful runes. Whoever breaks this memorial is constantly tormented by anger. Betrayal death will befall him. I trace depravity." The inscription is from the late 600s AD
Show more
Hotel
Distance: 5.6 km
Villa FloraViola has its roots in the 19th century and is located in the beautiful Brunnsparken in Ronneby. The Brunnsbadet Water Park is right next door, and you can admire the Japanese garden in Brunnsparken.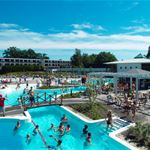 Hotel
Distance: 5.4 km
Welcome to Ronneby Brunn Hotel! The hotel is in South of Sweden in Ronneby, Blekinge and is one of Scandinavia´s best known conference, meeting and tourist facilities centre.
B & B
Distance: 12.1 km
Stay at a magical 200 year old mansion right next to the Baltic Sea, which today is a Seminar, Event- and Guesthouse and is surrounded by a beautiful nature reserve.