Sweden Rock Festival
Category:
Festivals, Events, Concert & Music
Date: Wednesday 9 jun 2021
Bands like Iron Maiden, KIZZ, Ozzy Osbourne, In Flames, Alice Cooper and many more have all played at Sweden Rock. The festival has become one of the most famous rock- and metal festivals in the world, with visitors from over 50 different countries every year.
The festival offers the best possible mix of classic rock, hard rock, metal and even some blues - something for all tastes. Clean and neat, safe and secure. Ocean-near location, cozy grass hillsides and real lavatories. But most of all, a really friendly and good-natured atmosphere. Like one big family, with members from over 50 countries. The best audience in the world, quite frankly.

Read more about the festival and how to get tickets at the website: https://www.swedenrock.com/
Date

Time

Arena/Place

Wednesday 9 jun 2021
12:00

- 12:00

Norje boke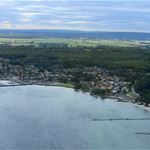 Apartment
Distance: 12 km
Come and stay at one of Blekinge's most beautifully situated and mosquito-free campsites. Enjoy a relaxing stay whether it's in a caravan, tent, cottage or in one of the apartments.
Camping
Distance: 9.2 km
Our camp sites for tents and campers in Mörrum are located right by the riverside in a beautiful setting.
Camping
Distance: 12.4 km
Peaceful, pleasant family campsite in a unique setting just off the beach between the beech woods of Blekinge and the sea, just 3 km from the centre of Sölvesborg.