Concert - P-Floyd / Coming Back to Life Tour
Category:
Events, Concert & Music
The Swedish Pink Floyd tribute band P-Floyd will come to Karlskrona on 10 September.
Life is like a river that never ends. That is always moving. Life changes and we follow. Pink Floyd's suggestive and illustrative music here becomes a backdrop of tones and moods that lead the listener through the ongoing lukewarmness of life to the darkness of the abyss and back to light and life. Do not miss the opportunity to be seduced and captivated by billowing, sweeping hypnotic light, timeless music and a world-class production. We know you have longed.

P-Floyd was formed in '93 by the conductor & guitarist Jan Stumsner. Since '98, the band has every summer attracted thousands of Floydians from all over Sweden to a barn in the village of Skog outside Falun. For the past four years, the band has also toured concert hall in Sweden and, among other things, set up their own version of The Wall.

During the 2004 tour, the band recorded the live CD "Floydian waves". In August 2006, the band was a total success in front of more than 8,000 in Dalhalla - one of the world's most powerful and beautiful outdoor scenes, built at the bottom of a giant limestone quarry. The concert - a total experience with a symphony orchestra, aircraft, actors, lights, laser and pyrotechnics - was filmed by Swedish Television and in early 2007 a 1.5-hour documentary about P-Floyd was shown, which was watched by 270,000 viewers. The concert in Dalhalla also resulted in a live DVD. Magnificent, impressive and professional are some of the superlatives from previous concerts. One of the reasons for the great success is that P-Floyd dares to break the pattern and not become a carbon copy of the original. Not only on the musical level, but also in the presentation of the Floydian feeling.

Price: 540 SEK (incl. 45 SEK in service fee)
Duration: 3h
Language Swedish

Tickets are sold online via tickster, the link can be found further down.
B & B
Distance: 4.5 km
Stay at a magical 200 year old mansion right next to the Baltic Sea, which today is a Seminar, Event- and Guesthouse and is surrounded by a beautiful nature reserve.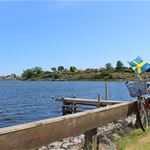 Camping
Distance: 1.7 km
Dragsö Camping & Stugby is located close to the beach in the Blekinge archipelago, 3 km from central Karlskrona. Modern cottages and seaside camping pitches available.
Hotel
Distance: 360 meters
Welcome to Hotel Conrad, a 3-star, popular little family hotel in the middle of Karlskrona. Hotel Conrad, together with Hotel Aston, is owned and operated by the family Wenström. Hotel Conrad has 58 rooms in the three buildings called Yellow-, Red- and Culture house All overnights includes a generous continental breakfast buffé. During the day you can help yourself to coffee and tea whenever you like. On weekdays (not during summer) we also offer waffles with jam. All the rooms and the lobby have wireless internet connection free of charge for all our guests.