CANCELLED - Exhibition by Yvonne Larsson
Category:
Events, Exhibitions
Date: Saturday 6 mar 2021
- Sunday 21 Mar 2021
PLEASE OBSERVE! This exhibition is cancelled due to Covid-19.
----------------------------------------------------------------------------------------------
Yvonne Larsson was born in 1958 in Blekinge and educated at Forum Art School in Malmö and Lund University. Her artistic medium is oil on canvas.
The paintings balance in the borderland between the imaginative and the abstract. Layer upon layer of underpainting and color processing gives rise to image worlds with condensed moods, recognizable things that are repeated and metamorphosed to the limit of the metaphysical.

Vernissage Saturday 27 February.
Then open Thursday 16:00-18:00 and Saturday-Sunday 13:00-17:00.
Camping
Distance: 7.1 km
Our camp sites for tents and campers in Mörrum are located right by the riverside in a beautiful setting.
Hotel
Distance: 2.3 km
Spa, hotel and restaurant. Stay in a modern, relaxed, safe and warm environment.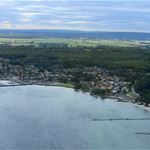 Apartment
Distance: 20 km
Come and stay at one of Blekinge's most beautifully situated and mosquito-free campsites. Enjoy a relaxing stay whether it's in a caravan, tent, cottage or in one of the apartments.