Concert - 1974 Tribute to ABBA - The greatest hits tour
Category:
Events, Concert & Music
Experience the music of the ABBA super-group through the world's best tribute band, the English band 1974 - Tribute to ABBA. This evening you will surely return to ABBA's heyday when ABBA ruled the pop scene!
It's like seeing the four original members again and hearing classics like "Dancing Queen", "Take a Chance on me" and "Waterloo".

When Aileen Mclaughlin and T J Davis (or is it Agnetha and Anni-Frid) come on stage, it is not only the looks and the costumes, but also the fantastic vocals that make us wonder who they really are.
Robert Arnall and Jules Dodd as Benny and Björn complete the super-group.

The fact that the world has not forgotten ABBA's fantastic music is proved by the 1974 tour of packed concert halls, festivals and arenas all over the world. 1974 has also toured with superstars such as Rod Stewart, Kylie Minogue, Tom Jones and Sir Cliff Richard.

Length: about 125 min including pause
Age limit: 13 years.
Wheelchair spaces can be booked at Karlskrona Tourist Office, Kalmar ticket center and via the call center to Ticketmaster. The number is down below.
When purchasing a wheelchair space, 1 attendant enters on the same ticket freely.

INFORMATION: ADVANCED EVENT!
The concert has been moved from 23 Oct 2020 to 5 Nov 2021 at the same time.
Purchased ticket is valid until the new date and you as a visitor do not have to do anything. If you can't go on the new date, you can make a repurchase before the 5th of August 2020. In that case contact Kalmarsalen [email protected]
Phone number (booking)
+46 771 70 70 70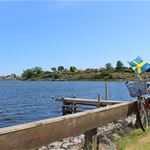 Camping
Distance: 1.7 km
Dragsö Camping & Stugby is located close to the beach in the Blekinge archipelago, 3 km from central Karlskrona. Modern cottages and seaside camping pitches available.
B & B
Distance: 4.5 km
Stay at a magical 200 year old mansion right next to the Baltic Sea, which today is a Seminar, Event- and Guesthouse and is surrounded by a beautiful nature reserve.
Hotel
Distance: 360 meters
Welcome to Hotel Conrad, a 3-star, popular little family hotel in the middle of Karlskrona. Hotel Conrad, together with Hotel Aston, is owned and operated by the family Wenström. Hotel Conrad has 58 rooms in the three buildings called Yellow-, Red- and Culture house All overnights includes a generous continental breakfast buffé. During the day you can help yourself to coffee and tea whenever you like. On weekdays (not during summer) we also offer waffles with jam. All the rooms and the lobby have wireless internet connection free of charge for all our guests.