Oktoberfest with Tyrolean Corps
Category:
Events, Festivals, Concert & Music, [...]
Date: Friday 20 sep 2019
- Saturday 21 Sep 2019
While holding a premiere weekend in Munich, the classic Oktoberfest will be held in Rydows Salon.
The lounge is redecorated in a classic style, the kitchen makes German favourites, the beer is poured into cups and the band Tyroler Corps plays oumpa-oumpa. The lounge has an exclusive number of seats so secure yours before it's too late!

Food:
Bratwurst with roasted potatoes, pickled onions, smoked pork, salad and accessories.
German apple dessert on buffet after dinner.
 
Bookable packages:
Package 1: Entrance ticket, October party hat, Brezel snack and food - SEK 395
Package 2: Entrance ticket, October party hat, Brezel snack, food and a measure (one liter of beer) - SEK 495
 
times:
Entrance from 18:00 for booked guests
Entrance drop in from 20:00, the entrance can be purchased on-site, seating is not guaranteed.
Live on Stage from about 8 pm, Tyroler Corps
The food is served until about 20.30
DJ and party until 01.00
 
Prices:
Entrance ticket drop-in - 100: -
One size - 160: -
Glass of wine - 75: -
Cider - 65: -
Jägermeister 4 cl - 80: -
Underberg 2 cl - 40: -
Soft drink - SEK 25
Loose hat - SEK 100
 
Are you several companies that want to sit together?
Email [email protected] and state the names you used for ticket booking via Nortic.

On Friday 16/8 at 10:00 the tickets will be released!
Hotel
Distance: 319 meters
The hotel has a central location by the water in Karlskrona. Exciting activities, cultural sights and fun for the whole family are only a stone's throw away.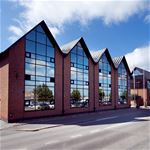 Hotel
Distance: 732 meters
The Clarion Collection Hotel Carlscrona is a stunning hotel situated right next to the sea and only 5 minutes from the train station. You certainly won't go hungry at the hotel with both complimentary Afternoon Sweets and an Evening Meal served every day.
Hotel
Distance: 380 meters
Welcome to Hotel Conrad, a 3-star, popular little family hotel in the middle of Karlskrona. Hotel Conrad, together with Hotel Aston, is owned and operated by the family Wenström. Hotel Conrad has 58 rooms in the three buildings called Yellow-, Red- and Culture house All overnights includes a generous continental breakfast buffé. During the day you can help yourself to coffee and tea whenever you like. On weekdays (not during summer) we also offer waffles with jam. All the rooms and the lobby have wireless internet connection free of charge for all our guests.